Puppy Love - Coma Inducer® Oversized Comforter
Description
Inspired by how you felt when you had your first crush... a Puppy Love® memory that almost didn't feel real. Puppy Love® is pure, innocent and memorable, which inspired us to use this cozy, cuddly 500 GSM puppy-like fur to provide you with a new level of infatuated coziness. The reverse material is our silky soft Bare Bottom®, a soothing plush, which is sure to melt your heart and make our Puppy Love Coma Inducer® your first ever Comforter Crush!

And what better way to fall in love with your XL Twin, XL Full, XL Queen, or XL King bedding than with a cozy plush Twin, Full, Queen, or King oversized comforter? You'll fall hard for our Puppy Love - Coma Inducer® Oversized Comforter but, unlike your first puppy love crush, you won't be snapping out of it anytime soon. In fact, the more nights you spend with this ultra cozy Twin XL, Full XL, Queen XL, or King XL comforter, the more you will love it. The combination of our luxuriously cozy Coma Inducer® bedding and our buttery soft Bare Bottom® bedding creates a piece of comfy extra large Twin, Full, Queen, or King bedding that is impossible to forget! At Byourbed, we want you to experience Twin XL, Full XL, Queen XL, or King XL bedding so cozy, you'll never want to leave your Twin, Twin extra long, Full, Full extra large, Queen, or King bed again.

When you are having a bad day, a puppy snuggle can really change your whole mood, so imagine waking up surrounded by such uplifting comfort on your Twin, extra long Twin, Full, extra large Full, Queen, or King sized bed. This plush XL Twin, XL Full, XL Queen, or XL King comforter will surround you in high quality comfort that will help you enjoy night's that are full of the best sleep humanly possible. The plush front of this oversized tan Twin, Full, Queen, or King comforter will keep you warm and cozy all night long. And with the cloud-like comfort of our Coma Inducer® bedding joining forces with the insane softness of Bare Bottom® microfiber infused with spandex, you can enjoy Twin XL, Full XL, Queen XL, or King XL comfort that you may have only dreamt about before! With a super soft touch that reminds you of a creamy stick of butter, you'll instantly realize why we advise sleeping nude with our incredibly comfortable Bare Bottom® bedding.

Shams Sold Separate
Puppy Love - Coma Inducer® Oversized Comforter
Size: Choose Your Comforter Size
Material: Luxury Puppy-Like Faux Fur, reversing to silky soft Bare Bottom

®

material
Construction: Thick 280 GSM Down Alternative Fill
Important Information: Warm, thick XL Comforter that is addictive in comfort
Our Policies
Lowest Prices

No Discount Codes Needed

Easy Returns

Hassle Free Flat Rate Returns

Free Shipping

Orders Ship Within 24-48 Hours
Puppy Love - Coma Inducer® Oversized Comforter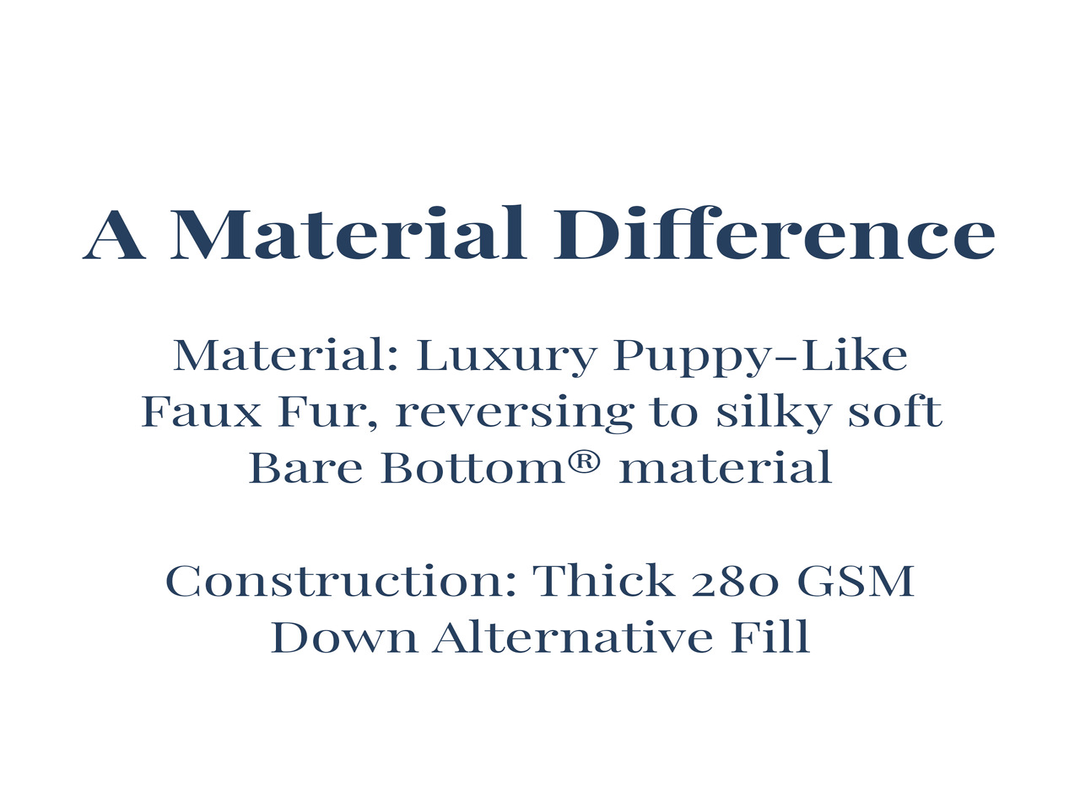 I ABSOLUTELY LOVE THE COMFORTER. IT IS JUST RIGHT FIR THE TEMPERATURES IN OUR AREA. LOOKS BEAUTIFUL ON THE BED. THANKS FIR THE QUALITY AND THE PRICE. I COULD NOT HAVE FOUND ANYTHING I LIKED BETTER.

EVERYTHING IS TRUE ABOUT THIS COMFORTER. SOOOO SOFT AND COMFORTABLE THAT I BOUGHT ANOTHER ONE FOR MY SONS BED. FAST SHIPPING TOO

GREAT

LOVE THIS PRODUCT WILL BUY AGAIN..MY DAUGHTER LOVED MIN SO WELL SHE ORDERED ONE.