Are You Kidding Bare - Coma Inducer® King Comforter - Antarctica Gray
Description
Inspired by untamed coziness that is so soft and plush that it begs the question "Are You Kidding?" Seriously... you wrap yourself up and you know a comfort level this high makes you think it can't be real. It must be a dream. No bedding can feel this good, right? Or can it? With long silk-like, luxurious fibers that seemingly engulf your skin in a cradle of comfort, you just know that you've found the very best with "Are You Kidding®" Comforters. This particular Are You Kidding

® bedding is turbocharged with comfort by the reverse side being made with Byourbed's luxury Bare Bottom

® material. A fabric that can only be explained by imagining yourself bundled in a stick of creamy, cozy soft butter. This insanely cozy combination of plush creates our most versatile Coma Inducer

® - the aptly named Are You Kidding Bare.


At Byourbed®, we want to offer the absolute best when it comes to comfortable King bedding. Our goal is to help you make your King sized bed so comfy, you'll feel as if you are a part of it. In order to do that, we like to experiment with cozy bedding materials to find something that will make your essential King bedding unlike anything you've ever felt before. Combining some of our softest bedding materials, the Are You Kidding Bare - Coma Inducer® King Comforter - Antarctica Gray will turn your King bed into the most luxuriously cozy place you've ever been. The front of this oversized gray King comforter is made with our plush Coma Inducer® material for warmth and comfort. To increase the already incredible softness of this unique King extra large comforter, the reverse side is made with our comfy Bare Bottom® bedding material. This insanely soft material is microfiber that has been infused with spandex that is so extremely cozy that you have to feel it to believe it and is best enjoyed without pajamas.

Blending Byourbed's best bedding creates an extra large King comforter that will make getting cozy on your King bed easy so you can get the most restful sleep possible. Best of all, this extended King comforter is made with extra length and extra width, so it is actually oversized King bedding. The bigger size of this King extra large comforter not only means more comfort for you, but also more style for your bedroom! Gray King bedding is easy to match, so adding this oversized gray King comforter to your King bedding essentials is a smart move. And while this gray King extra large comforter is blending in with your bedroom decor, the soft bedding materials will also help give your King bed a comfy appearance. Creating a harmonious and cozy atmosphere in your bedroom, this machine washable gray King bedspread is the perfect finishing touch when it comes to your stylish bedroom items.

Shams Sold Separate

Are You Kidding Bare - Coma Inducer® King Comforter - Antarctica Gray
Size: King Bedding Comforter - Oversized King XL
Material: Thick, Wild Luxury Plush reversing to our Bare Bottom

®

super soft material
Construction: Thick 280 GSM Down Alternative Fill
Important Information: Warm, thick King Comforter that is addictive in comfort
Our Policies
Lowest Prices

No Discount Codes Needed

Easy Returns

Hassle Free Flat Rate Returns

Free Shipping

Orders Ship Within 24-48 Hours
Are You Kidding Bare - Coma Inducer® King Comforter - Antarctica Gray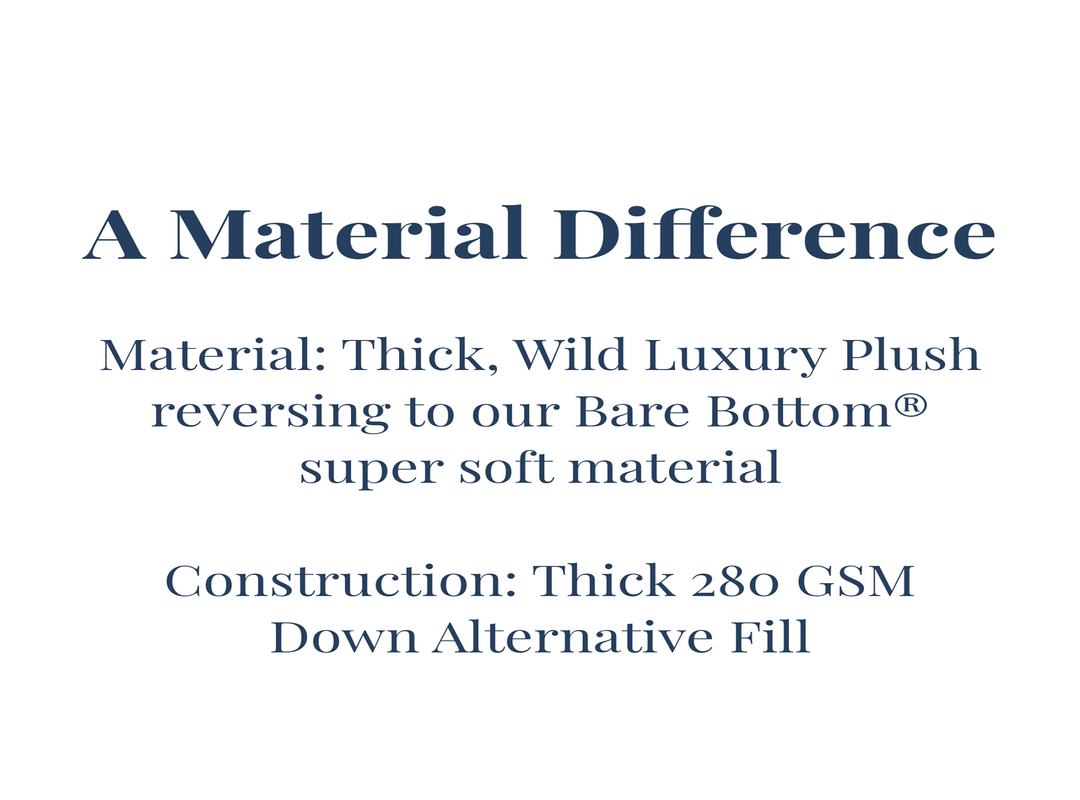 IT'S PERFECT AND SO SOFT! I ABSOLUTELY LOVE IT!!!!

BEAUTIFUL AND LIGHT, GOT FOR THE SUMMER BECAUSE WE ALSO OWN THE NANA I LOVE YOU COMFORTER AS WELL...BOTH ARE SO SOFT AND GORGEOUS, BUT SHED MASSIVE AMOUNTS OF FUR...CLOGS VACUUMS AND GETS IN EYES AND ALL OVER...WOULD STILL BUY AGAIN FOR THE LUXURIOUS LOOK AND FEEL

VERY COZY AND GREAT FIT. NO MORE FIGHTING OVER BLANKET :)

WE LOVE IT! IT'S SO SOFT AND COMFORTABLE! IT'S A GREAT COLOR GRAY. WE BOUGHT ONE AS A WEDDING GIFT AND THE NEWLY WED COUPLE LOVES IT AS WELL!