Coma Inducer® Comforter - Charcoal - Oversized Bedding
Description
Inspired by

the goal to create bedding so undeniably comfortable that you are unable to leave your bed. Physically not being able to get out of bed is the sole mission of our original Coma Inducer® plush comforters. Imagine a bedding comforter so plush and cozy that you are literally unable to move.... not because you can't, but because you won't! To be unwilling to start your day because your bed feels too good is the ultimate compliment and purpose of our Original Coma Inducer®. Made of soft, plush 330 GSM fluffy heaven, our Original Coma Inducer® has sparked a bedding brand that embodies and represents the ultimate in bedding comfort.



If you are looking for the best of the best when it comes to bedding, you've come to the right place. Our Coma Inducer® Comforter - Charcoal is a best selling piece of bedding for a reason! When it comes to the ultimate look and feel of your Twin XL, Full, Queen, and King sized bedding, it is hard to beat this amazing oversized bedding item. Made with incredibly luxurious plush that is soft to the touch and looks just as soft, this extra large comforter will add an insane amount of comfort to your extra long Twin, Full, Queen, or King sized bed. Combine that with a thicker than average inner fill and you have an oversize comforter that truly delivers when it comes to comfort, providing you the most warmth and coziness you could hope for.

If you can tell your cozy comforter is extremely soft just by looking at it then you know you have a keeper! This essential XL comforter will add a look of softness and luxurious comfort to your Twin XL, Full, Queen, or King bed, extending to the look of your bedroom decor. On top of that, the stylish gray color of one of these unique Twin extra long, Queen, Full, or King XL comforters will also help match your bedding with the rest of your bedroom furniture. A cohesive bedroom starts with the look of your extra long Twin, Full, Queen, or King sized bed and this gray oversized comforter will put you off to a great start!
Coma Inducer® Comforter - Charcoal

Size: Choose Your Comforter Size
Material: Luxury Plush in Charcoal Gray
Construction: Thick 280 GSM Polyester
Important Information: Warm, thick Comforter that is addictive in comfort
B Plush
- Luxuriously soft and comfortable Coma Inducer® Comforter that adds ultimate warmth and comfort to your Bedding while creating your decor theme
Our Policies
Lowest Prices

No Discount Codes Needed

Easy Returns

Hassle Free Flat Rate Returns

Free Shipping

Orders Ship Within 24-48 Hours
Coma Inducer® Comforter - Charcoal - Oversized Bedding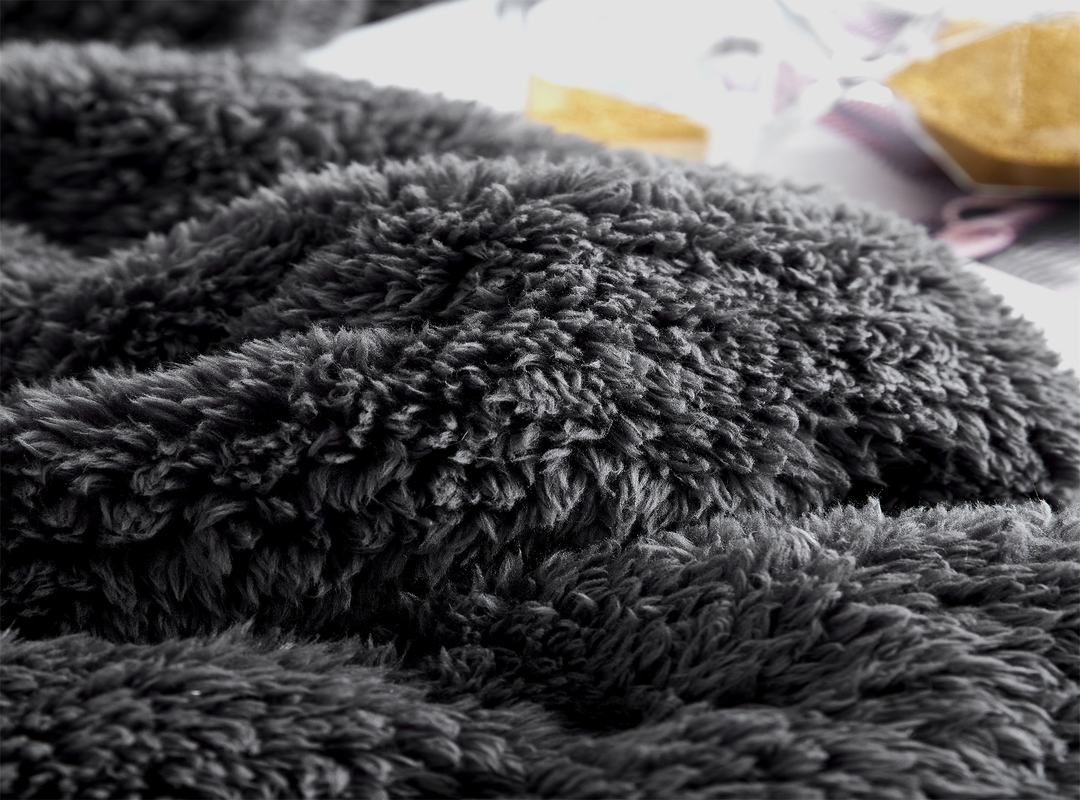 JUST AS PERFECT AS THE PICTURE. GREAT QUALITY!

I HAVEN'T USED MY BEDDING YET BECAUSE I AM WAITING TO BRING OUT FOR WINTER TIME. DELIVERY AND PURCHASE WAS GREAT THOUGH. CANT WAIT TO BE IN A COMA ! :D

THE COMA INDUCER KING COMFORTER I PURCHASED IS SO AMAZING! I HAVE SLEPT BETTER FROM THE FIRST NIGHT I PUT IT ON MY BED. I WOULD HIGHLY RECOMMEND IT TO ANYONE!

SUPER SOFT AND COZY